Wonder Why Other Businesses Always Rank
Higher in Search Results? Are You Frustrated
That Your Business Is Not Ranking On Google?
Let Us Help You
Search Engine Optimisation & Local SEO
Search Engine Optimisation is the most important thing for any website. It should be a top priority when developing new websites, after all your website needs a great SEO strategy for search engines like Google to index and rank your company well.
70% TO 80% OF SEARCH ENGINE
USERS IGNORE THE PAID ADS,
THEY ARE FOCUSING ON THE
ORGANIC RESULTS
What is Local SEO?
Local SEO means to target the potential customers for your business in a known location, an example of this is the keyword "Security Services Ballarat", by using Ballarat in the keyword we are selecting the location that we wish to promote our services.
Why do I need a SEO Strategy?
People that are searching online are in the market for a product or service that you provide, so if you are not showing up on the first page you are definitely missing out on sales.
Getting Started with SEO
When you are looking to get a website developed be sure to have plenty of copy ready, copy is simply text written about your products or services. This text is what will get you the Page Rank your website deserves, well it will once we're done optimising it.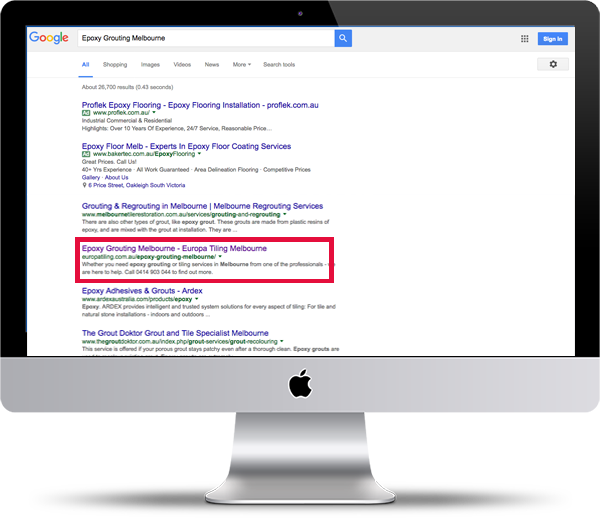 ✓ KEYWORDS RESEARCH FOR SEO

✓ OPTIMISE GOOGLE PLACES LISTING

✓ SITE CONTENT OPTIMISATION

✓ SETUP AND INSTALL GOOGLE ANALYTICS

✓ SITEMAP CREATION/SUBMISSION

✓ DEDICATED ACCOUNTS MANAGER

✓ KEYWORDS RESEARCH FOR SEO

✓ OPTIMISE GOOGLE PLACES LISTING

✓ SITE CONTENT OPTIMISATION

✓ SETUP AND INSTALL GOOGLE ANALYTICS

✓ SITEMAP CREATION/SUBMISSION

✓ SEARCH ENGINE SUBMISSION

✓ ADD SITE TO MAJOR DIRECTORIES

✓ DEDICATED ACCOUNTS MANAGER